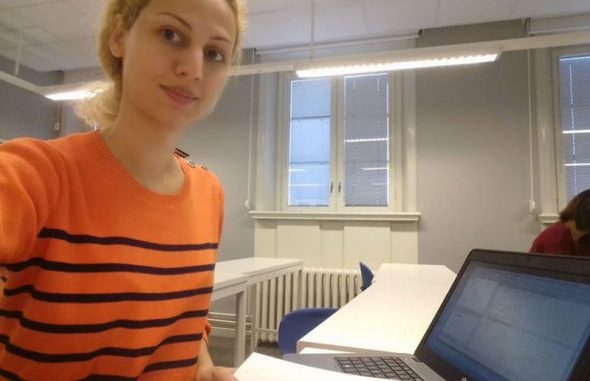 An actress who left Iran, her home country, after turning her back on Islam and embracing Jesus thought she had found her ideal refuge in Sweden, a supposedly hospitable Scandinavian country where many asylum seekers have found new homes and restarted new lives.
Christian convert Aideen Strandsson has twice been denied asylum in Sweden and could be sent back to Iran where the penalty for conversion includes death.
But now Aideen Strandsson is not so optimistic. She's actually facing a life-or-death issue.
In a recent interview, Strandsson told CBN News that she has twice been denied asylum in Sweden and could be sent back to Iran where the penalty for conversion includes death.
"I read the Bible and I understood what Jesus said about peace, about love, about kindness, and in my heart I became a Christian when I was in Iran," she said.
Three years ago, she arrived in Sweden and joyfully professed her new faith in public.
Unfortunately, her application for asylum has been denied by government officials and an immigration court.
"They felt that, they don't believe I am in danger and I think that's the reason," she said.
Iran is ranked eighth on Open Doors' World Watch list of the world's top 50 Christian-persecuting countries. The Islamic government in Iran persecutes Christians, particularly converts, on the belief that their religion is Western-influenced and a threat to the country's Islamic identity.
Iranian authorities regularly raid and shut down house churches, imprisoning their leaders and torturing them. The government follows Sharia law, which calls for the death penalty for apostates, or those who abandon Islam to follow another faith.
At least 193 Christians were arrested or imprisoned in Iran in 2016, according to Open Doors.
"In Sharia, converting religions is not acceptable and punishment for this issue is death," Strandsson said.
Her lawyers continue to pursue her asylum petition, but with two denials Strandsson said her situation looks bleak.
"I don't know what will happen to me, I know the punishment for me in Iran is death," she said. But "I have hope in Jesus, it's just the last hope I have in my life."
Last month, people were outraged when Sweden decided to require migrants to take a "Bible test" before deciding whether to grant them asylum, CP previously reported.
Human rights campaigners and members of Sweden's Christian community condemned the test as an act of cruelty.
source: christianpost