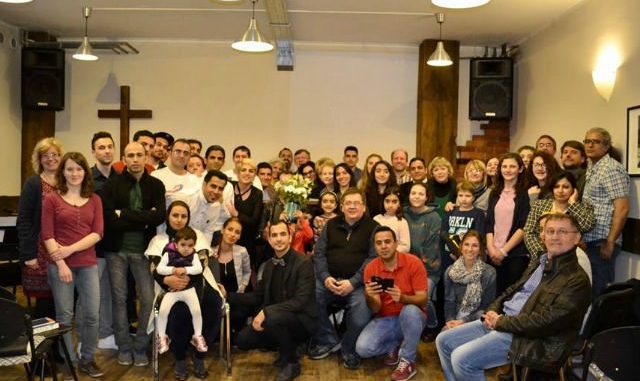 Croatian activists and representatives of the Baptist Church are holding a round-table discussion in Zagreb on Wednesday to highlight how the deportation of asylum-seekers and refugees to their home countries could end in serious persecution.
They will host an Iranian Christian woman who could face persecution or even a death sentence if Croatia decides to reject her plea for asylum and deports her to Iran. Her identity is being kept secret by activists. Drago Pilsel, a Croatian theologian, columnist and human rights activist, who is organising the round table, told BIRN that the woman was raised as a Muslim but started to study the Bible and became "intrigued by the Christian concept of the 'Gift of God'".
After the authorities started to investigate, she and her husband left for Croatia – declaring it as a short vacation – and then applied for asylum, Pilsel said.
"Since the couple has already been rejected for asylum twice, now they are under threat of being deported [to Iran] by the police," Pilsel said.
He insisted that the fact that Iran is a signatory to the Universal Declaration of Human Rights "doesn't change much in reality".
Although Iran allows and recognises other religions, some believers still suffer discrimination. Muslims who convert to other religions have been jailed and given death sentences, although these have not been carried out.
Pilsel said that an active "underground Christian movement" exists in Iran, as well as the state-controlled official Christian churches.
The Iranian Christian Community was set up with the help of the Croatian Baptist Church earlier this month in Zagreb. It is a branch of the Alliance of Iranian Churches, which is known as Hamgam.
It has around 30 members who left Iran and are seeking asylum in Croatia.
Each weekend, a pastor from a Hamgam community in Vienna comes to Zagreb to give a service in Farsi, the Persian language.
Pilsel said that two other asylum-seekers will probably attend the round table – a young Palestinian boxer and a young Syrian musician.
The event, Pilsel added, "will also address the poor conditions" at the Porin Centre, a reception centre for asylum-seekers and refugees in Zagreb.
Croatia saw a surge of asylum-seekers in 2016, registering 2,235, in comparison to 211 in 2015.
Croatia granted asylum 83 times in 2016, and also offered 16 subsidiary protection statuses – international protection for people seeking asylum who do not qualify as refugees.
Over 600 asylum seekers came from Afghanistan, and over 300 from Iraq and Syria respectively. According to figures from NGOs, there were around 50 asylum-seekers from Iran.
Activists have already criticised Croatia for the treatment of refugees and asylum-seekers. In January, Human Rights Watch accused Croatia of pushing Afghani asylum seekers to neighbouring Serbia.
Also in January, Catholic organisation, the Jesuit Refugee Service accused the state of "illegally deporting asylum-seekers".
source: balkaninsight