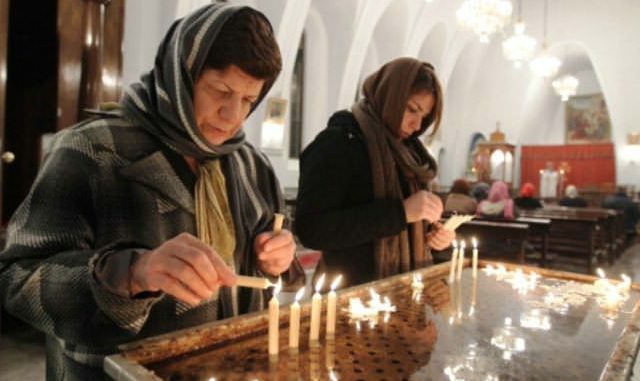 Iranian Christians As well as other ethnically recognised Christian communities celebrated Christmas in their churches, while the Islamic government of Iran strictly banned Farsi-speaking Christian converts and non-Christians from celebrating Christmas freely in official church services.
While Iranian Christian converts are held back from celebrating Christmas, a member of the Iranian Parliament, Georgic Abrahamian, representing Armenian Christians in southern Iran claimed, "Christians enjoy freedom in Iran. Compared to other Christians and religious minorities in our region, we as followers of Christ face no restrictions".
In the meantime, he acknowledged that Christians are not allowed to hold government positions. He said, "There are specific jobs that are related to religion, and we as Christians cannot be employed in those positions."
He continued, "There are some Christians who work at banks, universities, education centers and the National Oil Company. However, for the most part, Christians do not show a great interest in those jobs, as they provide low pay and incumbents are obligated to attend certain Islamic ceremonies."
Such acknowledgment is noteworthy, as Iranian officials, and even those claiming to represent the Iranian Christian minority, often deny any difficulty or hindrance imposed on their communities because of their faith.
In his remarks, Mr. Abrahamian, mentioned, "Christians show a greater interest in self-employment. They want to be their own boss and that's why we see many Christians in the service related jobs".
The Iranian government strives to limit the exposure of the majority Muslim Farsi-speaking Iranians to Christianity by banning them from attending church services, especially during the Christmas season. Such restrictions are in place to slow down the spread of Christianity in the country.
In recent years all churches were strictly banned from holding Farsi Bible study sessions and refrained from any form of evangelistic activities.
The official figure for the number of Christians in Iran is 200,000 individuals and only those officially recognized as Christians are allowed to celebrate Christmas in official churches. All others, including Farsi-speaking Christians are not allowed in churches.
Most of the Iranian Christian population is concentrated in Eastern and Western Azerbaijan, Tehran, Isfahan, Fars, Hamedan, and Khuzestan provinces. However, in recent years there has been a rapid spread of Christianity across the whole country, as more and more Iranians show interest in knowing about Christianity. As a result, the number of Christians in Iran is increasing daily.
The Iranian Islamic government treats Iranian Christian converts unfairly, but it seems it has not been able to slow down the growth of Christianity in the country. The government's brutal campaign to crackdown on Iranian Christians clearly manifests how desperately it seeks to stop the spread of Christianity within its borders. In spite of government persecution, Iranians have been showing an incredible thirst to know about the Word of God, as they fail to find their answers in Islamic teachings.
source: mohabatnews