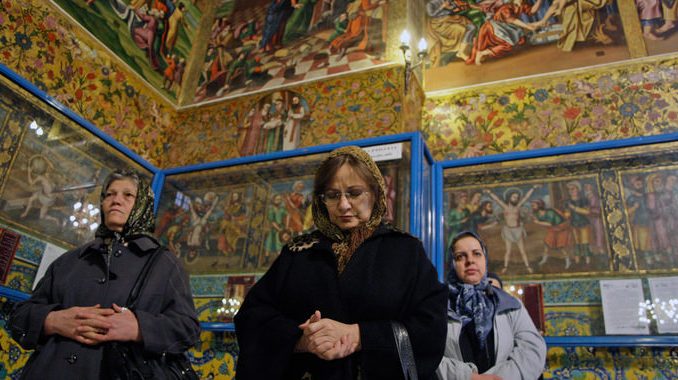 Christians are under pressure in Iran
Two Iranian Christians have reportedly been arrested and detained by Iran's Revolutionary Guard, in the latest example of discrimination against Christians by the Muslim majority state.
The Centre for Human Rights in Iran says Anoohe Rezabakhsh and her son Sohail Zargarzadeh were taken from their home by plain clothes officers.
The two converted to Catholicism from Islam.
Mansour Borji, a spokesperson for the Alliance of Iranian Churches, said: 'Two plainclothes intelligence agents of the Islamic Revolutionary Guards Corps (IRGC) entered the home of Christian converts Anoohe Rezabakhsh and her son Sohail (Augustin) Zargarzadeh in Oroumiyeh [city] without prior notice and searched the premises and took away personal items such as religious and holy books.'
Iran has a community of Christians going back thousands of years. The largest group is made up of Armenians, but there are also small communities of Assyrians, Pentecostals and other believers.
It's difficult to know how many are converting to the Christian faith because although the theocratic Shia regime claims that it offers religious freedom to minorities, it's known that there is persecution of Christians and others, such as Zoroastrians.
Anti-persecution charity Open Doors places Iran eighth on its World Watch List, meaning it's one of the most risky places to be a Christian.