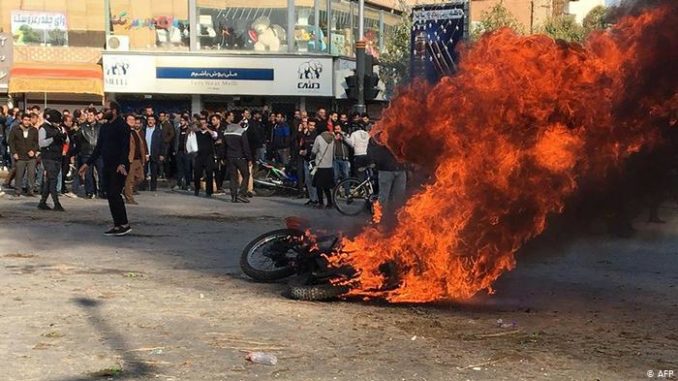 Protest rally in Manchester in support of people in Iran because of sudden increase of fuel price in Iran which was initiated without informing the Iranians.
While Iran's President Hassan Rouhani told advisers that the move was intended to put money in its citizens' pockets and that the government has earmarked all funds to be used on subsidies for poor families.
The decision was met with widespread anger in a country where the economy is already reeling as a result of US sanctions. Iran is home to the world's fourth-largest crude oil reserves. While expected for months, the decision to raise petrol prices still caught many by surprise and sparked protests overnight.
Khamenei the supreme leader of Iran said on Sunday: "Some people are no doubt worried by this decision … but sabotage and arson is done by hooligans not our people. The counter-revolution and Iran's enemies have always supported sabotage and breaches of security and continue to do so."
He said he did not know about the details behind the price rise, but said it had been sanctioned by Iranian government bodies and experts, and as such should be supported.
Iran's chief public prosecutor, Mohammad Jafar Montazeri, called the protestors "saboteurs" and warned they would face "severe punishment" if arrested.
More than 1000 people were left dead in Iran following clashes between riot police and protesters in several Iranian cities after the government raised the price of petrol by up to 300 per cent. Videos on social media showed riot police firing teargas and using clubs on Saturday to disperse protesters in several cities.
Also a video on Twitter showed protesters torching a bank. Other videos showed a picture of Khamenei being burnt and video footage from the city of Shiraz showed protesters over-running a police station and setting banks on fire, while chanting "death to the dictator" against Iran's Supreme Leader, Ayatollah Ali Khamenei.
Following people's protest Communications Minister Mohammad-Javad Azari Jahromi blocked Iranian's access to internet for one week. The Iranian government believes people's free access to internet will expose their illegitimacy.
Iran affairs expert Dr. Reza Taghizadeh, formerly of Glasgow University, says the public reaction to the price rise has been inevitable, given the dire economic conditions of the country. "Although the trigger force in Iran is the rise of price of gasoline, the protests in more than 37 major cities are political and against a system of government that is corrupt, undemocratic and resists change" he said.
Source: http://bbc.co.uk